24 Bottle Timber Wine Rack - Slim Edition - Wine Stash - Delivered ASSEMBLED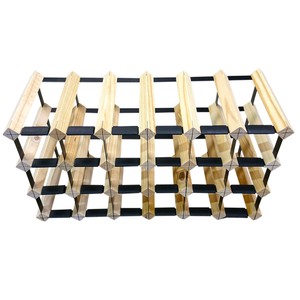 ---
24 Bottle Timber Wine Rack

The Complete Home & Business Wine Storage Solution

Store, Age and Display your wine professionally with this Slim Edition 24 Bottle Wine Rack.

Made from Sustainably Sourced Pine and Toughened Steel, this premium wine storage system contains everything you need to create the modern and stylish Wine Rack pictured. Designed to comfortably hold up to 24 Bottles of Wine, this wine storage solution will fit snugly into any Kitchen, Cellar, Restaurant or Bar. 

The item's measurements are: 61cm x 23.5cm x 32.5cm (Length x Width x Height), with a capacity of 24 Bottles.

Unlike other listings, this wine rack is delivered to your door fully assembled. No assembly is required. Save yourself hours of assembly and frustration with this Pre-Assembled wine rack from Wine Stash.

These Wine Racks have been designed to store your wine just off horizontal, promoting perfect storage conditions. This ensures that,

The Cork will stay in partial contact with the wine, helping it remain moist, and not dry out - Meaning your wine will last longer! Entrapped air, formed by the wine's ullage will remain on the top of the bottle, allowing for a slower and more gradual maturation and oxidation process - Meaning your wine will taste better! 

Expand and grow your wine storage as your wine collection grows. With a set of Connector Clips it is easy to connect multiple modules together to create the perfect storage solution for your needs.

All wine racks sold by Wine Stash are not only designed to be solid and durable, but also engineered to last a lifetime. Don't risk your wine becoming damaged over time from cheap and fake alternatives when you can have a genuine Wine Stash product.

This item comes with Free Shipping Australia wide, a 30-Day Return Period and a LifeTime Warranty. If you are not 100% satisfied for any reason, simply post the item back and we will give you a full refund on your purchase. No questions asked.

At the end of the day we want to make and keep you happy. We pride ourselves on having the best customer service in the industry. If you have any other questions, comments or concerns, feel free to let a member of our customer assistance team know and we will get back to you as soon as possible.

Black Onyx Finish Dark Mahogany Finish

Wine Stash is a 100% Australian Company - Devoted to providing the highest quality wine racks. Shop with confidence knowing that all Wine Stash products come with free returns and a lifetime warranty.
 _gsrx_vers_841 (GS 7.0.16 (841))