LARGE STEEL PAPER CUTTER "610 mm" ROLL DISPENSER! Office or Home! A bloody gem!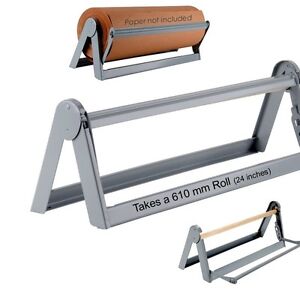 ---
Sign up for our email newsletters!! THEN YOU WILL SEE all our DISCOUNTS, SPECIALS and NEW ITEMS!!At Pushka's Place!!Sign up for our email newsletters!! STEEL PAPER ROLL DISPENSER & CUTTER610 mmfor Office or Home$130.00 FAST'n'FREE DeliveryWithin AUSTRALIAIMPORTANT INFORMATION
Please measure your roll! 
This Paper Cutter will take a 610 mm Roll. 
It will take a smaller Roll than 610 mm. 
But not a larger Roll than "610 mm"
Product Description
Bulman dispensers and cutters are the most widely used roll paper 
cutters in the world. They are designed to provide  you with years 
of maintenance-free operation. Bulman cutters smoothly dispense 
many  types of paper including butcher,  Kraft,  and  gift wrapping
 papers.  They cut  evenly,  using either side of  the  double-edged, 
spring-loaded blade. 
NOTE: The blade is NOT razor sharp and has NO jagged edges. So we feel it is a safest option for the user at home or in the office. While still doing the job it is 100% intended for.

Handy, Easy and Affordable

Verified Purchase

I was looking around for a paper dispenser for a while but didn't like the high prices I had come across. I  found this online and decided to take the plunge and upgrade my packaging game. Upon opening this I was sceptical. It didn't look all that high-end and I thought I may have made a mistake. After about 2 minutes of messing about with the pieces in the box I had it set up - Very easy and quick to get up and running. My big 600mm Kraft paper rolls out smoothly and I can tear it off on the bar included with the dispenser. Something that used to take me a few minutes going back and forth and cutting with scissors now takes 30 seconds - walk out a length of paper and tear it off.

Definitely an unexpected workhorse.By AA Computers Support on May 17, 2015Verified PurchaseNormally I don't write reviews but when you have a product that blows you away, you have to say something. This thing is excellent. As someone else already mentioned, it may look flimsy, but it is strong. 6 months of complete abuse and I see no signs of wear, tare, or fatigue on this little guy. The instructions were easy to follow, the assembly was very quick, and after a bit of drilling, I was good to go. It is very efficient, smooth, and reloading is a breeze. All in all, if you want a good, strong paper holder/cutter, this is the one you want.Works perfectly. Assembled it in 60 seconds with my 4-year-old boy.By Dan Huse on August 4, 2016Verified PurchaseIt's a basic product with a basic function, and I put a 1000-foot roll of kraft paper on it on day one. I was concerned that maybe I was pushing the roll capacity of this cutter, but it passed the test with flying colors. It is designed so well and so perfectly that no man (or woman) should ever have to read instructions to set it up. The hardwood dowel that goes through the center of the paper roll is rock solid--doesn't flex even a tad under the stress of a heavy roll.600mm Paper CutterBy aaroadster on March 15, 2015Verified PurchaseWorks great as intended. We also change back and forth between 18" and 24" paper with no problems. I just put a spacer on the spindle in the direction we tear the paper.Great product! Works just like we need it to!By Sandra Crick on April 18, 2014Verified PurchaseThe cutter holds the paper and cuts like it says it would, we are going to be mounting this to the wall!SEE all our DISCOUNTS, SPECIALS and NEW ITEMS!!At Pushka's Place!!Sign up for our email newsletters!! Thank-you for looking!