Wireless Bluetooth 4.1 Aux Audio 3.5mm Stereo Music Home Car Receiver Adapter OZ 7625632764903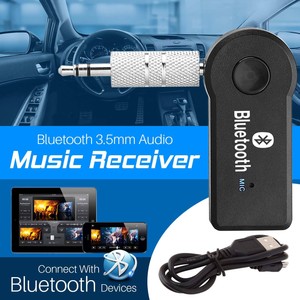 ---
Overview:
This music receiver (hands-free) is designed to receive music from mobile phones or transmitters that feature Bluetooth wireless technology. This music receiver can be used with almost any audio receiver with an audio input jack, including the automobile. Listen to music from your smartphone or MP3 player on your existing home or car audio system. To enjoy car music, call solutions, the use of smartphones to make calls and listen to music through the car stereo. This product is embedded in echo cancellation microphone. Using only one button, you can easily switch between music and phone.
Compatible With :
For iPhone 3G, 3GS, 4, 4s, 5, 5c and 5s For iPad 1, 2, 3, 4, Air, Mini1 and 2 For Laptop and PC For Samsung, HTC, etc, all other Android 2.1 (and above) devices with Bluetooth For Smart-phone
Specifications :
Bluetooth standard: Bluetooth V4.1+EDR, Class 2:33′ One Touch Connect Button For Easy Device Pairing Transmission distance: 10m Hands-free Stereo audio profile: A2DP Frequency: 2.4GHz Certified BBQ, CE, AND FCC 3.5mm stereo output inlet socket Sleep mode for power conversation Power supply: Chargers via mini-USB cable Up to 8 hours music playback or continuous Colour: Black Size: Approx. 5.2cmx2.4cmx1cm/2.0 " x 0.9" x 0.4″
Instructions (How To Use) :
If this is the first time you use this device, please pair the device first

To enter pairing mode, press and hold the ON/ OFF button for 5 seconds until both red and blue LEDs flash. Search for the music receiver on your mobile phone or compatible transmitter. Touch and hold one button to power on and it will automatically search for a compatible transmitter. No any codes to enter if connect to Apple or Android device. LED lights beneath the button indicate the device's connection and charging status. The devices should now recognize each other and pair. The LED on the music receiver will slowly flash blue after successfully pairing. To complete pairing some devices require a passkey or code, please enter "0000". Once successfully paired, the devices can be powered off. To re-connect simply power them both on, no need to pair again.

Note: If you wish to use the P music receiver with another transmitter, you must restart the pairing process with the new device from step one. After pairing the new transmitter, the old transmitter will no longer be paired with the music receiver, you can have only one device connected at a time.

If you have already matched before : press and hold the ON/OFF button for 3 seconds until the blue LED light begins flashing. To turn off, press and hold the ON/ OFF button for 5 seconds. The red LED will light up, and then turn off.

Note: Read the user guide of your transmitter or mobile phone to find out how to turn ON/ OFF Bluetooth wireless technology.
Package Includes :
1 x Bluetooth Receiver 1 x Micro USB Power Cable 1 x 3.5mm Stereo Inlet Socket 1 x User Manual Note: No retail package to save the cost and protect the environment.